Company Profile
Location:
San Diego, California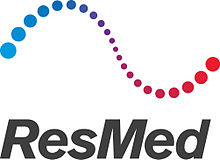 Background:
ResMed (NYSE: RMD, ASX: RMD) was founded in 1989 and is an AWS customer based in San Diego, California. ResMed is a pioneering provider of innovative medical equipment for diagnosing, treating, and managing respiratory disorders. Their cloud-connected medical devices transform care for people with obstructive sleep apnea (OSA), chronic obstructive pulmonary disease (COPD), and other chronic diseases. ResMed is on target to improve 250 million lives in 2025. The company is already delivering life-enhancing benefits through its technologies to over 108 million patients. ResMed is an S&P 500 company with a market cap exceeding $25 billion and yearly revenues above $2.5 billion. It employs more than 7,500 people globally and operates in more than 20 countries.
Challenges:
ResMed receives massive amounts of patient data peppered with Protected Health Information (PHI) and Personally Identifiable Information (PII), also sometimes known as Personal Information (PI). The data is continually fed in through remote self-monitoring software of user devices to the ResMed data repositories. By the end of 2018, ResMed required automated capabilities to reliably and continuously protect all this personal and sensitive data. The company had been instituting a manual scan process to locate sensitive data, masked whatever they could find, rendering it useless, and was rapidly outstripping its capacity to comply in meeting their legal privacy requirements reliably.
As ResMed participates in healthcare, they are required to secure PHI according to US Health Insurance Portability and Accountability Act (HIPAA) as well as PII according to the EU General Data Protection Regulations (GDPR) as of 2018. By the end of 2019, they also were going to be regulated by the upcoming California Privacy Protection Act (CPPA), as well, adding further PI compliance requirements. ResMed had to find a reliable and automated service solution to identify and mask all the personal and sensitive elements in all their growing data reliably. The medical devices worn by users were generating 1-1.5 GB of new data every 10 minutes.
The first challenge was to set up a smooth migration process from the ResMed on-premises data stores to quarantined S3 buckets. PKWARE had to be able to scan up to 30TB of data elements, identify, and properly mask all current PHI and PII/PI according to ResMed protection and masking policy requirements. The next challenge was in the laser-focused use case for ongoing operations. PKWARE would have to detect and mask sensitive PHI and PI/PI data elements in 1-1.5 GB micro-batches in Snappy Parquet files, with 2.5 to 7 x compression ratios. ResMed's time threshold requirement was not to exceed 5-minutes (+1-min tolerance) 24/7/365 and then land cleansed data in protected S3 buckets. From there, the data would be consumed by other AWS technologies like Redshift for ResMed to be able to run its critical, ongoing analytics. All this would have to be achieved along with meeting the third customer challenge to keep overall compute (EC2, EMR) cost to a minimum.
Use Cases:
ResMed was a new AWS customer and had been actively searching for a data privacy technology provider and met PKWARE through the ResMed AWS Named Account Manager. At re:Invent 2018, the ISV Success Manager suggested the Account Manager reach out to PKWARE. Due to the urgency of the customer requirements, PKWARE and AWS technical and business teams committed to working closely and rapidly together right on the floor of re:Invent.
PKWARE responded rapidly to the customer inquiry and immediately met with the customer's technical team and the AWS Account Executive and Sales Engineer to further delineate the customer's fullest technical challenges. In less than one month, PKWARE fully documented requirements, ran testing, and wrapped up a compelling Proof of Concept (POC), allowing ResMed to approve PKWARE as their technology provider of choice.
To begin its PKWARE software validation process, the customer successfully downloaded the PKWARE online SaaS version through AWS Marketplace, used it, and was happy with their PKWARE results in protecting patients' sensitive data. ResMed determined they would proceed in using the full capabilities of PKWARE scanning and de-identifying its entire 30TB of user data, achieved in the first 30 days. From thereon, between 1-1.5 GB of new data has continued to hit S3 quarantined (restricted zone) buckets every 10 minutes to be de-identified and output for internal usages, such as analytics, before the next batch arrives.
In one business quarter, the customer met PKWARE for the first time, successfully tried the technology, expanded their requirements, ran a successful POC, negotiated, and closed a production level procurement and operations contract. ResMed is now securely pushing 1-1.5 GB micro-batches of data every 10 minutes in S3 quarantined buckets through PKWARE to scan, identify, and mask all its PHI and PI/PII, retaining their referential integrity. Not only does PKWARE meet ResMed's enormous technical challenges, but PKWARE fully services ResMed's business requirements, as well. PKWARE closed the procurement process during the second 30 days—including provisions for future PKWARE privacy functionalities. With PKWARE, ResMed is meeting its business and technology requirements for patients' privacy and corporate security in analytics, dev/test, and business intelligence.
"I met PKWARE Sales Director Joey Russo after recommending PKWARE to the ResMed account just as they started their cloud journey with their first project, a strategic HIPAA data lake. The data lake personal health information (PHI) needed to be de-identified in order for ResMed to perform patient analysis. The customer then selected PKWARE. My experience working with Joey was enjoyable. Joey was always ready to take a call, discuss the strategy, and move the project forward. The level of customer obsession and interest in making the solution scale was the reason we were jointly successful. I would recommend working with Joey Russo and PKWARE."
— Nicole Beige, Named Account Manager, AWS
Results:
Handles 1-1.5 GB Micro-Batches Every 5 Minutes
"PKWARE came highly recommended by AWS. Because PKWARE met the use case for detection and masking of sensitive data in 1-1.5 GB microbatches in less than 10-minutes, we went forward."
—Dave Williford, Director of Data Strategy and Engineering, ResMed
HIPAA, GDPR, and CCPA Confidence
The customer realizes 100% compliance. PKWARE finds and masks all PHI and PI/PII in all locations, according to the customer's data management policies, while keeping referential integrity and value of the data for use in dev/test, analytics, and business intelligence.
Reliable, Rapid and Responsive: A Comprehensive End-to-End Business Process
Within a single business quarter, PKWARE and AWS identified a new customer need, documented requirements, completed POC, signed the contract, and implemented a full, production-level technology solution.