PKWARE's early data compression and extraction programs revolutionized the world of data transfer by introducing the ZIP format.
Today, PKWARE is revolutionizing data security with PK Protect Endpoint and Data Store Managers, advanced suites of data protection solutions purpose-built for structured, unstructured, and semi-structured data residing both on-premises and in the cloud. This is the story of how PKWARE evolved from a small company in the Milwaukee suburbs into a global leader in data security solutions.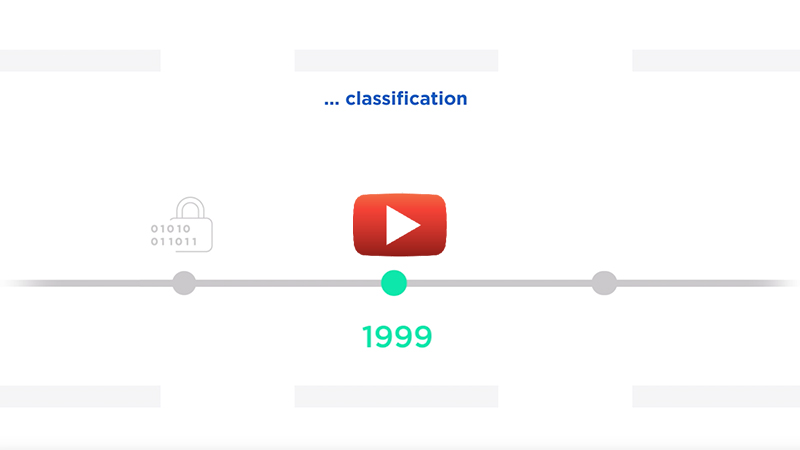 1986
PKWARE was founded in the suburbs of Milwaukee by Phil Katz, a brilliant programmer and expert at maximizing software performance. The company's early data compression and extraction programs earned immediate attention from individual users and large corporations alike.
1989
The company released PKZIP, a file archiving program that introduced the ZIP file format. The same year, PKWARE released the ZIP file specification into the public domain, making the format available for any company to incorporate into its own products. The ZIP file soon became the worldwide standard, and PKZIP became the industry's leading file archiving software. PKWARE continues to update and maintain the ZIP file specification today.
1990s
PKWARE continued to enhance PKZIP, adding new capabilities for managing, protecting, and sharing data. These capabilities were essential for organizations as they adapted to the new realities of office computing and internet communication. By the end of the decade, PKWARE products were in use by more than 90% of Fortune 100 companies.
2002
PKWARE acquired Ascent Solutions, Inc., an Ohio-based company that had developed mainframe software based on PKZIP. With the acquisition, PKWARE now offered its industry-best solutions on every enterprise computing platform.
2004
The company introduced SecureZIP, an enterprise data security product that included enhanced functionality such as digital signature authentication and certificate-based encryption. PKWARE continued to add new capabilities as customer needs and IT infrastructure evolved. Key developments included PartnerLink, a solution for secure data exchange, in 2006; SecureZIP for DLP, the company's first DLP enhancement solution, in 2011; and SecureZIP for Android and iOS operating systems in 2012.
2007
Dataguise is founded in the San Francisco Bay Area, California, to detect, protect, and monitor 100+ types of sensitive and personal data wherever it lives and moves across the enterprise, on-premises and in the Cloud.
2016
PKWARE launched its new data security platform, a comprehensive solution for enterprise-wide data protection. The platform introduced PKWARE's centralized management console, data discovery capabilities, and innovative Smartkey encryption key management technology. Together, these elements enabled organizations to gain an unprecedented level of control and visibility over sensitive data.
2017
PKWARE added intelligent data discovery capabilities to its security platform, allowing organizations to detect sensitive data in files and apply automated, rule-based remediation.
2018
The release of PKWARE Data Classification gave customers the ability to incorporate classification (using file metadata and visual labels) into policy-driven workflows. PKWARE became the only company to offer data discovery, classification, and remediation in a single, automated solution.
2019
The company introduced PKWARE Data Redaction, an automated solution that finds and redacts credit card data on laptops, desktops, and servers. The solution gained immediate attention (and was implemented by one of the world's largest banks) as a practical solution to a nearly universal challenge to data security and PCI compliance.
2020
PKWARE acquired Dataguise, the leader in personal data discovery and protection, helping organizations minimize risks and costs as they store and use data to drive business value. Some of the most recognized brands in the world rely on Dataguise's solutions to improve the effectiveness of their compliance, governance, and innovation efforts. Following the Dataguise acquisition, PKWARE rebrands its product offering as the industry's most comprehensive end-to-end data protection suite.
Today
Evolving from ZIP compression and encryption to full-scale data protection, PKWARE now offers data discovery and protection solutions for endpoints, servers, databases, data lakes, and cloud. Whether structured, unstructured, or semi-structured, PKWARE can locate and secure any kind of sensitive data. We are committed to continued development of innovative, high-performance solutions that help organizations meet today's needs and tomorrow's evolving challenges.